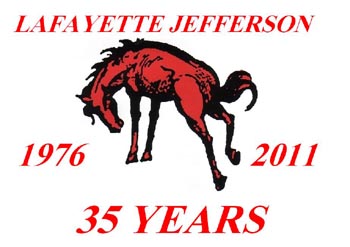 35th REUNION, TWO FULL DAYS OF FUN!
Friday July 22nd 2011
Friday began with an 08:00 a.m. breakfast at the famous Triple XXX in West Lafayette, followed by a 10:00 a.m. Tee-off for the Golf Outing at Edwood Glenn Country Club. Much fun was had by all with 18 holes played in sunshine and unusually hot temperatures, followed by prizes in several categories.
Golfers had a couple of hours to relax before heading to downtown Lafayette for the "Ice Breaker" at Sergeant Preston's of the North Guests began to arrive at 7:00 p.m. and were treated to a private outdoor patio with attached banquet room. Much reminiscing and fun was enjoyed by almost 100 classmates and their partners. The webmaster left at 12:30 and a large group were still having fun around a big table on the patio.
Saturday July 23rd 2011

Beginning at 11:00 a.m., classmate and current Jeff Couch Dave Howell provided the group with a wonderful tour of the Jefferson High School building and grounds as well as interesting news about past and future changes to the school. A real trip down memory lane was enjoyed by all.
(There are many new additions and changes since 1976)
1988 - The Auxiliary gym was added (renamed Dennis Blind Gym)
1996 The Administrative office, Science and Art areas are remodeled, the courtyard is made into the Large Group Instruction Area (LGI) - The corral seating area is removed, (That area becomes the Deca Den in 2002 and is now a coffee shop. Study halls are converted into classroom space.)
2003 - The Scheumann Stadium opened. (Replaces Crawley Field)
2006 The PEFCU bank branch opens inside the school. (It is staffed by students)
2009 The new Tennis Courts and Softball complex opens. The music wing remodel/addition is completed. (It is named Rohrman Center)
Notable things of interest - In 2003 Jeff left the North Central Conference and joined the Hoosier Crossroads Conference. 2011 is the 100th anniversary of Lafayette Jefferson High School, the current building which opened in 1969 is scheduled to be completely remodeled in 2017.
REUNION CELEBRATION
Beginning at 6:00 p.m. Guests were seated at the luxurious dining area at the Lafayette Country Club. A wonderful buffet style meal was served. Followed by cocktails, dancing and period music provided by a carefully selected local DJ. Just after midnight, the final guests said their goodbyes and the rest is history.
--------------------------------------------------------------------------------------------------------